Process Engineers have explored several techniques for consistently dispensing high-viscosity resins for spin-on material applications. Manually pouring and/or using pre-filled syringes requires significant material consumption and excessive time and introduces microbubbles into the viscous material. Achieving consistently accurate dispense rates and volumes and controlled suck-back is a daunting challenge. Automatic dispense options provide a feasible solution, however, many variables must be considered when pursuing this option.
One cost-effective solution involves using a combination of gravity-fed pressurized cartridges (12-ounce capacity) and stainless steel reservoir cans (1-gallon capacity). This medium-volume option features disposable polypropylene liners within the transparent cartridge housing, which allow users to switch materials in a matter of seconds without risk of cross-contamination. Each entire chemically exposed liner can be cleaned and reused or disposed of and replaced for the next chemical application. Precision pneumatic dispense valves are triggered by host spin coaters and provide accurate shot size and suck-back operation. The host software provides discrete control of the valve timing to the nearest 0.1 second. Other flow-rate variables include the N2 or clean dry air (CDA) pressure to the reservoir and the volume control adjustment on the dispense valve near the point of use.



This option provides significant improvements over manual techniques in delivering viscous materials to the substrate surface. However, all pneumatically pressurized reservoirs are prone to allowing dissolution of gases into the process material. This phenomenon varies depending on the material solubility to the pressurized gas (N2) and the flow characteristics and/or viscosity. Thick-film materials require significantly higher pressures to achieve nominal flow rates, and the overall pressure is directly proportional to the amount of dissolution. This trapped gas can result in anomalies in the coated film and inhibit control of the suck-back function, resulting in problematic drips. While this option is feasible for initial small-scale proof-of-concept and development laboratories, it is not ideal for medium-volume prototyping and pilot-line environments.
In direct contrast to pressurized reservoirs, positive displacement pumps (such as the Cybor 5000-610) do not directly pressurize the material during dispense operations or subsequent recharging. Also, many positive displacement pumps feature a recirculating system to facilitate a specific outgassing procedure when the material is being initially purged or not in continuous use. The Cybor 5000-610 intelligent dispense pump is considered the industry-standard positive displacement pump for dispensing high-viscosity thick-film resists and polyimides (≤ 50,000 cP). The Cybor 5000-610 pump delivers extremely accurate shot size, volume, and suck-back control as well as microbubble-free operation. This pump is controlled through a Windows®-based PC. The software is fully compatible with today's automated wafer-processing cluster and track systems.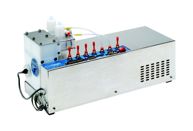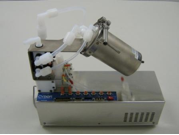 Unfortunately, many R&D laboratories simply cannot justify the purchase of million-dollar track systems that would be compatible with the positive displacement pump solution. Furthermore, the vast majority of laboratory-scale, entry-level spin coaters are not PC-based and will not support the software necessary to interface with this solution.
All Brewer Science® Cee® spin coaters include PC-based controllers capable of hosting the IDI/Cybor ChemNet® software. Visit the Cee® spin coaters page to learn more.