Many research laboratories and institutes use spin-coating technology to cost-effectively create thin-film coatings with precise thickness and uniformity control. In many cases, the most significant initial costs of development work are for the semiconductor-grade substrates. Consequently, many spin-on application projects may use irregularly shaped wafer pieces, microscope slides, and/or wafer die (1 cm × 1 cm) in early development work. Material deposition is typically performed with handheld syringes, manual pipettes, or more sophisticated digital repeater pipettes.
As process optimization begins to accelerate, the need to eliminate human variables becomes increasingly critical. Transferring the application method from a handheld dispense technique to a fixed mechanical nozzle with microprocessor control is a primary area of focus. Implementing automatic dispense options provides a feasible pathway; however, many variables must be considered when pursuing this option. An ideal solution combines the programmable control provided by an intelligent spin-coating (host) system with a disposable syringe barrel. This configuration is inherently capable of minimizing material consumption, mitigating cross-contamination, and providing precise programmable control.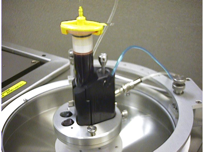 One such system is the disposable syringe dispense system (DSD-1), offered by Brewer Science. This system consists of a stainless steel/anodized aluminum housing with a proprietary design that features a mechanical roller suckback that ensures a positive clamp for drips and completely seals the nozzle tip from exposure to open air. This system provides extremely accurate, repeatable dispense rates and volumes. Each syringe accommodates various sizes of barrels and typically holds 30 cc or 55 cc of material. Various barrels are available, including transparently clear for general-purpose applications, light-sensitive amber, and opaque black (lightproof). Barrels also feature precision mated pistons that mitigate trapped air and enhance shot size uniformity. The DSD-1 system utilizes a proprietary flexible 16-gauge ID dispense luer tip and is compatible with viscosities up to 400 cP with a standard N2 or CDA pressure of 30 psi. With higher N2 pressures (to a maximum of 60 psi), the DSD-1 can support viscosities up to 13.5 kcP and dispense rates of 0.3 cc/s. The spin coater host software provides discrete control of the dispense timing to the nearest 0.1 second and combines with syringe pressure to control the dispense volume.

Syringe barrels are self contained, allowing users to interchange various process materials in a matter of seconds. The syringes are easily removable for filling and weighing and can be capped for storage over several days or weeks. The entire wetted assembly can be cleaned and reused and/or disposed of and replaced for the next chemical application. Inline Whatman™ Puradisc syringe filters are compatible with the syringe barrels and are available in a wide array of media types, pore sizes, and flow rates. They are simply inserted between the pressurized syringe barrel and the dispense tip. Common filter media types include Teflon®, polypropylene, nylon, and Kynar, and pore sizes include 0.05, 0.1, 0.2, 0.45, 1, 5, 10, and 25 µm. Optimal setup procedures include prewetting all PTFE Teflon® filters with solvent before plumbing on the process material. Prewetting will optimize the flow characteristics of the material through the filter and mitigate the risk of trapped air. The solvent purging process should be used in combination with opening the cartridge valve and purging any residual trapped air. Always invert the position of the filter to allow the output to flow from the top of the barrel.

The DSD-1 dispense nozzle housing mounted in the lid of a Brewer Science® Cee® spin coater will accommodate multiple automated and/or manual syringe dispense options. A maximum of three other automated cartridges, pressure cans, syringes, or positive displacement or diaphragm pumps can be mounted simultaneously. With the Brewer Science® Cee® equipment user-friendly design, dispense recipes are easily entered, monitored, and stored through our stand-alone Windows®-based graphical user interface. Please refer to the Brewer Science® Cee® spin coating equipment landing page for additional information and detailed tool specifications.
Whatman™ is a trademark of GE Healthcare Companies. Teflon® is a registered trademark of E. I. du Pont de Nemours. Windows® is a registered trademark of Microsoft.