Uncover endless possibilities with Brewer Science, a leading innovator in technology. Each year, we offer a variety of internships, co-ops and post-doc opportunities to those seeking a career in technology.
Opportunities range from traditional science, technology, engineering and math (STEM) programs to business development and purchasing, to name a few.
"Brewer Science is not only cultivating next-generation technology, we are helping develop the next generation of technology leaders," says Dr. Terry Brewer. "Our internship program provides young people with a unique experience that combines mentoring and working side-by-side with some of the best researchers in the field of technology. An internship at Brewer Science could lead to full-time employment as students learn their craft firsthand and get the real-world experience they need to be the innovators of tomorrow."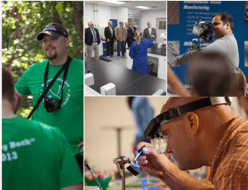 We make it our mission to help you learn new skills and achieve your goals while providing real world experience. Historically, about 74 percent of eligible interns accept full-time opportunities after graduation.
Intern Evergiste Ngabo was one of many Brewer Science interns who became a full-time employee. "Serving as an intern in the lithography and beta groups was a wonderful opportunity that gave me a complete view of the company's culture, which I still enjoy to this day. It was a wonderful experience to get involved in a community that I am now part of – I was able to work on many different projects, travel, get to know people and present on science to elementary schools in the area. As a result of the internship, I now enjoy a full-time position and get to continue being a part of the wonderful technology that is Brewer Science is advancing."
As a Brewer Science intern, you will have access to a variety of benefits including:
Competitive pay
Networking with industry leaders
Interaction with the community at annual intern-led events
Access to Brewer Science professional development classes, leadership and mentorship program
Real-world experience with innovative, dynamic technologies
Consideration for full-time employment if eligible
Still curious? Check out our Life page on LinkedIN to see what we're all about and view our latest opportunities here.