Understanding the significance of a B Corp™ comes down to measuring the success of a company in more than profits and ROI. Can global impact, sustainability, and social justice deliver value to stakeholders too? At Brewer Science, we boldly answered, "yes!" and launched our journey to becoming a Certified B Corporation™. A B Corp is a for-profit, corporate entity that seeks to positively impact society, the community, and the environment, in addition to generating profit. The concept is catching on. Today, there's a worldwide network of almost 4,000 Certified B Corporations across 150 different industries and 74 countries.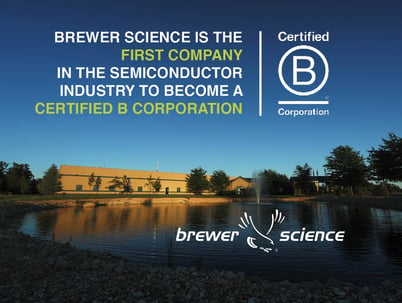 In May 2021, Brewer Science announced that we are the first company in the semiconductor industry to become a Certified B Corporation. As a chip industry trailblazer for this certification, Brewer Science wanted to share a little about its journey and answer questions often posed by its suppliers, customers, and competitors: Why would a company go through the exhaustive auditing process, how does it work, who does it involve, and what comes next?
Why did Brewer Science seek to become a Certified B Corporation?
Certified B Corporations are the forefront of a growing global movement of people using business as a force for good™. Certification demonstrates a spirited commitment to high standards of social and environmental performance, transparency, and accountability.
"Certified B Corporation standards align with our mission of being a company of the people, by the technology, for the customer, to achieve fulfillment," said Dr. Terry Brewer, Founder and CEO of Brewer Science. "Becoming a Certified B Corporation exemplifies our commitment to our mission to continuously evolve our global footprint to the benefit of our employees, community, and customers, adding unexpected value throughout the world."
Certified B Corporations are held accountable for environmentally friendly business practices, being inclusive, and promoting local businesses. Besides providing a social benefit to our suppliers, customers, and employees, the certification also gives Brewer Science extensive opportunities to grow the business in collaboration with other mission-driven companies and people. For example, as Certified B Corporations, companies can attend the B Climate Collective and work synergistically with other B Corp companies to advocate for social change.
How did we become a B Corp?
Brewer Science completed a meticulous assessment process conducted by B Lab™, which examined over 170 factors in reviewing Brewer Science's customers and vendors, record of inclusion, community involvement, corporate governance, and environmental impact. B Lab also analyzed average employee tenure, charitable giving, energy savings plan, recycling policies, employee volunteer service, and employee upward mobility.
The process of becoming a B Corp begins with a self-assessment that the company's Board of Directors must certify and ends with a 90-minute review call during which B Lab reviews the company's responses and the company presents supporting evidence. The entire process is rigorous, with the company winning and losing points based on various criteria. These points are factored into weighing its strength as a candidate, and also in identifying opportunities where the company can improve.

B Corp status is granted when the company earns at least 80 out of 200 points. But, this is just the starting point of an ongoing process of growth and improvement to uphold the values of the B Corp into the future. The assessment is more than a scorecard. It's a thorough inspection of every facet of the company and helps guide it in making changes, since every question in the B Impact Assessment must be supported by an explanation and real-life example.
A key part of the certification requires choosing a Business Impact Area, which requires the company to prevent evidence of processes it has implemented to influence that area. This component counts for 29 of the 80 points required to achieve Certified B Corporation status. Brewer Science pursued the impact area of environmentally innovative manufacturing, requiring us to provide detailed evidence of how we manage waste in manufacturing and minimize our carbon footprint. We earned an Overall B Impact Score of 88.7.
Brewer Science also addressed other areas in the B Impact Assessment such as our human resource initiatives, community involvement, commitment to helping underserved communities, and seeking minority-owned businesses–just to name a few. The assessment incudes the five B Impact areas where Brewer Science scored the highest.
Who was involved in the B Corp process?
Brewer Science assembled an internal B Corp task force team of directors from departments across the company to provide a cohesive and complete view of the company – a step that was necessary for us to meet the requirements of B Lab's extensive auditing of the company.
B Lab encourages the use of an outside consultant that serves as a liaison between the company and B Lab. Brewer Science's internal B Corp task force team held bi-monthly meetings with its consultant for nearly a year to answer the hundreds of questions in the questionnaire and gather evidence to corroborate each claim.
"It's a very extensive, but very rewarding process," said Karen Brown, Project Manager at Brewer Science, also known as the B Keeper by B Lab since she led the certification process within the company. "B Lab is very thorough with the process. It is detailed with what it means and what the questions stand for. It is firm with its requests to ensure that the certification is taken seriously."
What's next on Brewer Science's B Corp Journey?
Brewer Science's B Corp certification is valid for three years, at which we point we will apply for renewal – a process that will require us to score even higher than on the previous certification. B Lab stresses continuous improvement, and B Corps must create an improvement plan that spells out areas they will enhance in the coming years.


Brewer Science has already identified improvement areas for the recertification. Several of our new human resources initiatives – such as flexible and expanded work options – have not yet been committed to policy. Additionally, we have expanded our use of a cloud-based learning platform to increase training options for employees and hold performance conversations quarterly instead of annually.
As part of the assessment, Brewer Science won points for community involvement and charitable giving. However, we are expanding our community engagement by providing employees with a monthly charity or cause to support. Brewer Science became a Certified Employee-Owned company last year. Since 2020 marked the launch of our employee stock ownership plan (ESOP) and shares had not yet been dispersed, B Lab didn't fully recognize the program. These are just a few examples of how we plan to earn more points during the recertification.
At Brewer Science, we hope we can inspire other industry leaders to apply for certification. For more information about Certified B Corporations, and to get started on your company's application, visit the Certified B Corporation website.