Brewer Science is on the forefront of the semiconductor industry, continually seeking ways to minimize defects and increase efficiency to better serve customers with a complete solution. Continually pushing customers' expectations to unprecedented heights, Brewer Science is recognized as an industry expert. Tom Brown, Executive Director of Manufacturing and Engineering, and Julie Ply, Director of Quality Materials, sat down with Ed Sperling, Editor in Chief of Semiconductor Magazine to discuss manufacturing issues he identified within the industry, and how Brewer Science overcomes these challenges and what is expected of the future.
Quality and Sustainable Sourcing
Companies are becoming increasingly more concerned with quality and longevity of their products. For example, the automotive industry is looking for sensors that last over 18 years. Brewer Science has identified that providing a quality product starts at the core of sourcing quality materials. Collaboration with sub-suppliers is essential, therefore, BSI has developed a cross-functional supply chain team that not only works together with supplier development to increase the quality of materials, but also helps mitigate risk and increase sustainability.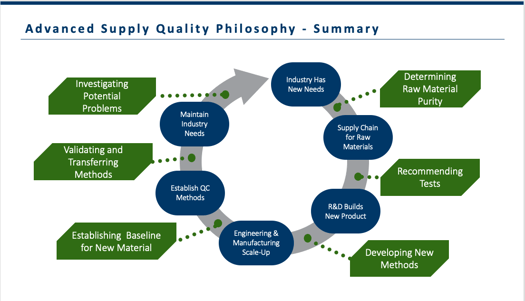 Supply Chain Development
By listening to customer feedback and applying those lessons back into the supply chain, all parties benefit by creating higher quality supplies and end products. Starting a discussion on improvements within in the supply chain can include looking at data and asking fundamental questions, "Do we have duplication? What do we need to do ourselves versus what can we build with our suppliers? Can we cross-compartmentalize some of the functionality or some of the products/process to mitigate risk and isolate some issues?" By prompting these discussions, Brewer Science can partner with our suppliers to improve the quality and consistency of materials.
Data Consistency and Data Challenges
Finding data that is organized consistently between departments and other units within the supply chain still poses a challenge to manufacturers. Ply remarks that electronics-grade materials are procured in such a way that requires subsequent verification processes to them. They are sourced from very large companies, and with Brewer Science essentially being a "small fish in the big pond" the collaboration aspect isn't always there. Additionally, trade wars and other geo-political challenges can place obstacles in the way of procurement. As suppliers are limited on materials, they might compromise on the sourcing. If a company does not have transparency into the supply chain, they do not know how to adapt their products to accommodate for those changes. The solution is similar to a process used in the automotive process called Advanced Product Quality Planning (ADQP). Brewer Science fully characterizes the raw materials and creates a "thumbprint" that can easily identify the baseline at any time based on the many different chemical and structural characterizations.
Thumbprints and Excursions
By having a complete characterization of the raw materials, it is easier to substitute in a uniform matter and ensure the quality grade will not influence the end product. Brewer Science takes the key characteristic from the thumbprint and makes it a part of the daily routine inspection of all new incoming lots for production. When there's an excursion, they go back to the complete thumbprint and compare all characteristics. This process spans further than just excursions management or deviation of quality – it is also used for continuous improvement activities and development program.
Parts per Quadrillion and Purity
Brewer Science is striving to take materials to new measures, passing parts per trillion (PPT) and aiming for parts per quadrillion (PPQ). However, concern still remains over additive tolerances and mixing pure materials with suppliers' products that may not be as pure. Brown reports that statistical analysis has played a significant role in measuring what level of "pure" a material can handle before it loses its characteristics. An impurity can be required for certain reactions, thus understanding the material and balancing that knowledge with the models and research of polymer chemists is critical.
Brewer Science strives to take innovation to new heights and create products for the new generation. A common theme is the discussion was "necessity is the mother of invention," because if you are not finding solutions before problems arise, somebody else is, and being perceptive to the industry and what surrounds it will allow prosperity to flourish. We must look at details with a critical eye and communicate trends and challenges with all parts of the supply chain. Maintaining transparency and collaboration between supply chain members is what has played a critical role in Brewer Science's endeavors toward PPQ and the Zero Defect Program.
Be sure to check out Sperling's write up of our discussion: Next Challenge: Parts Per Quadrillion.