Like most companies, Brewer Science is encouraging employees to work remotely to alleviate the spread of the COVID-19 virus. A remote workforce leads to virtual meetings – something we have all become very familiar with, and in some cases, too comfortable with. Turning off the camera may allow you to stay in bed with pajamas on while simultaneously tuning into the newest episode of "How It's Made" during your team planning meeting – a scary thought for companies like Brewer Science. We are founded on the importance of our people. It's in our vision statement, "A company of the people, by the technology, for the customer, to achieve fulfillment." We have a video series dedicated to exploring the unique individuals at our company. It's pretty clear - our people, and how we interact with each other, are not something we take lightly. When working remotely, we like to see our teams working together seamlessly, communicating just as effectively as they would if they were sitting in the same room. We have identified one sure thing that helps build rapport during meetings: turning the camera on.
Turn Your Camera On. Science has shown us that facial expressions and eye contact play an essential role in how we communicate with one another (Hietanen, 2020). Just because you are not in the same room with your colleagues doesn't mean you have to miss out on their presence. Simply turning on your camera during a meeting plays a crucial part in the meeting's effectiveness, and we have identified three tips that will allow you to make the most out of your virtual meetings.
Dress Up, From the Waist Up. This goes without saying that your camera only captures your appearance from the waist up. You may have fallen in love with the comfort of your lounge pants at home – that's okay. Just know that you can still look professional and presentable for your tea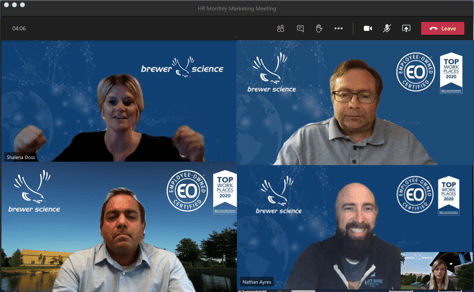 m meetings without entirely sacrificing comfort.
Get Creative with Backgrounds. If your messy home office is the excuse for not turning on your camera, then try using virtual backgrounds! Most video conferencing apps allow you to change your background with something as simple as a click of a button – no green screen needed! Your video conferencing app may even come pre-loaded with beach scenes. Still, I challenge you to show some company pride with a "branded" background featuring a familiar image of the company or the company logo. Check with your marketing department to see if they already have some made! At Brewer Science, we challenge other teams to see who will win the background contest with meetings using our marketing team's custom backgrounds!
Lighting and Eye Level. Sometimes lighting can be a challenge. Either the light is behind you, and it looks like an angel aura above your head or your face is shadowed by the lack of light. Thankfully there is an easy and cost-effective solution to this struggle: "ring lights" that attach to your computer that illuminate your face. Additionally, having your camera at eye level allows a more natural experience to your viewers and helps you stay focused on the screen.
At Brewer Science, we are on the forefront of technology and printed electronics and challenge our employees to find innovative solutions to any problem – even virtual meetings. Our employees have identified that one of the most effective ways to collaborate with each other is through virtual video meetings. It's a new experience for most of us. Still by understanding the basic human need of being able to see each other's facial expressions and build rapport by making eye contact, we are able to overcome the challenges presented by virtual meetings and continue to work effectively and efficiently with each other. Brewer Science is participating in webinars and online conferences instead of in person. Check out our previously recorded webinars on our website.