Much of the semiconductor industry is familiar with Brewer Science as the inventor and leader of the bottom anti-reflective coating (BARC) revolution. Since being established in 1981, Brewer Science has continued to be the market leader in supplying total solutions for enabling lithographic processes pushing beyond Moore's Law. What many may not realize is that Brewer Science also pioneered the way with developmental materials and processes that enabled thin wafer handling (TWH) by providing temporary adhesives and release technologies.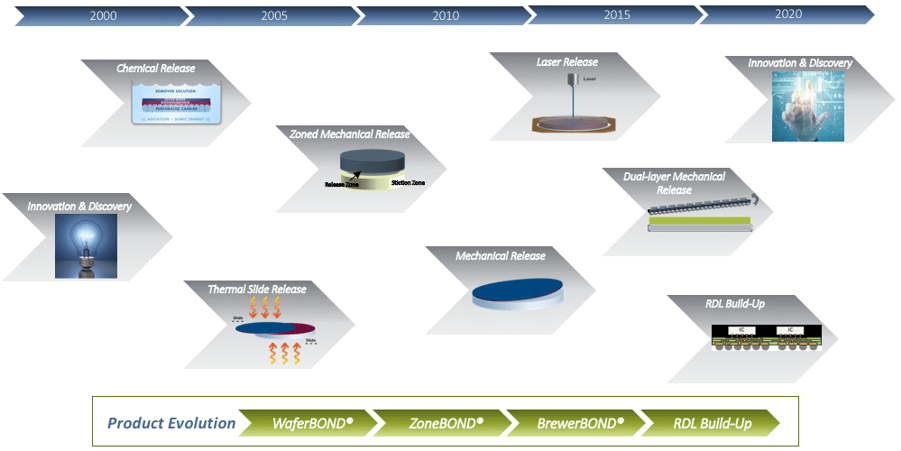 How it all began
The story begins back in the late 1990s and early 2000s when Brewer Science identified the need for materials and processing that could assist device thinning. We formed a partnership with an industrial equipment manufacturer during this period to develop processes where our materials could be used as a temporary adhesive to bond carriers to device wafers prior to thinning. The initial product platform was based on a chemical release process where a perforated carrier was used to allow for batch debonding of thinned substrates in a solvent bath. The target thickness of these devices was somewhere between 150 µm and 250 µm. The thinned devices were sturdy enough that they could withstand the release process unsupported after debonding. Prior to the introduction of our technology, the industry didn't require such thinning processes or was using a wax or tape for processing. Although the chemical release process enabled a full boat of substrates to be debonded at one time, the throughput was low due to the extended soak times required to release from the carrier.
Over the next couple of years, Brewer Science continued the development of more progressive solutions where perforated carriers were no longer necessary and the substrates of choice (glass, silicon, etc.) could be used to bond the device wafer to a rigid substrate prior to thinning and releasing the thinned device. This new evolution in the debonding process was referred to as thermal slide debonding. In this process, the bonded pairs are heated above the melt viscosity of the adhesive and the debond tool physically slides the carrier away from the device wafer (held in place on a heated platen by vacuum), after which it is transferred to a handling wand prior to being placed on dicing tape. Throughput of the substrates processed using this technique is roughly 15 wafers/hour.
The Paradigm Shift
Because of the temperature and force required to debond these thinned substrates, and due to the sensitive structures located on the device substrate, Brewer Science determined that a lower-force, low-temperature debond option needed to be developed. They needed to change not just the way the materials behaved, but also how they are released. Up until this point, the debonding solutions utilized only an adhesive material, since the debonding processes utilized either a chemical or thermal process for release. With this paradigm shift, the research and development chemists along with the applications engineering department designed a new room-temperature, low-force mechanical release mode referred to as the ZoneBOND® process. Although this mechanical debonding technology offered significant advantages over the thermal slide release process, the addition of a release zone and stiction zone decreased wafer throughput by increasing the number of steps with additional materials and processes. These processes were utilized until the early 2010s, after which Brewer Science continued to develop higher functionality materials and release methods, which are utilized today throughout the semiconductor and packaging industries in high-volume manufacturing (HVM). These offerings, known and marketed as BrewerBOND® materials, include newer innovative materials and debonding techniques including thermal slide, non-zoned mechanical, and laser releasable platforms for 305 nm, 343 nm, and 355 nm wavelengths.
From 2009 though present day, Brewer Science has commercialized a variety of BrewerBOND® adhesive materials, release layers, and processes that have propelled the industry by offering a vast array of debonding solutions. These solutions include thermally stable systems where selective debond methods including mechanical and/or laser release can be utilized. These new BrewerBOND® materials are capable of withstanding harsh downstream processing that is standard in the various packaging architectures. The incorporation of Brewer Science solutions continues to evolve and many new concepts are on the horizon. Currently, Brewer Science's expertise in material design is being used to develop a carrier assist layer specifically for RDL-first processes, where many of the alternative choices like tape fail to meet customer/industry requirements.
Follow the Brewer Science journey on our website at www.brewerscience.com to see how we continue to supply the semiconductor and packaging industries with state of the art solutions and concepts for pushing beyond the barriers. If you would like to discover how Brewer Science can advance your process, contact one of our WLP experts at info@brewerscience.com.